Manufacturing Sectors
Rotaloc designs, manufactures, and distributes custom components for manufacturers in the following sectors:
Composites

Rotaloc inserts provide high-strength and easy to install fastener options for nearly every composite application in the industry. From fiberglass pre-preg layup to forged carbon fiber, our inserts can be installed in bonded-on, molded-in, and post applied manners giving manufacturers flexibility in both design and manufacturing process. Rotaloc Bonding Fasteners can be installed between plies of composite during pre-preg, wet, or dry layups to provide a strong molded-in fastener once the component has been cured. Bonding Fasteners, as their name suggests, can also be bonded directly to the surface of composite laminates for a non-destructive installation option. Mold-in insert such as the Rotaloc Square, Hex, or Geoserts are perfect for chopped fiber/forged fiber applications. Rotaloc also produces a staggering array of post-applied bulkhead fittings that can be installed post-cure to provide water-tight/fuel-tight connections for tanks or hollow components.
Rotational Molding
Rotaloc inserts are most commonly used in rotational molding applications. They can be found in commercial products like coolers and kayaks, to transportation and agricultural components like water, fuel, or DEF tanks. The applications for our inserts and fasteners are seemingly endless in rotational molding processes. Our mold-in inserts include sensor rings, hex inserts, square inserts, Geoserts, Bonding Fasteners, compression limiters, bushings, multi-base/strips, T-Nuts, and mold-in bulkhead fittings among many other standard and custom inserts. These provide high-strength and economic fastening options for practically every rotationally molded application, and our wide variety of mold-in inserts allow our team of dedicated engineers and manufacturing experts work with you to find the perfect insert for your specific application. Our post-applied inserts (round knurled, press fit, spiral, bulkhead fittings, T-Serts, etc.) grant manufacturers the ability to install inserts after the molding process. These can be beneficial when modifying component designs without reworking a mold. The three-part bulkhead fitting assemblies provide leak-free connections for fuel/water tanks, drain ports, and many other applications.


Blow Molding
Blow-Molded components can often be difficult to apply fasteners to given their rapid manufacturing process and typical thin-walls. Rotaloc's wide variety of different inserts means we can provide application-specific solutions for each individual project. Our mold-in NPT, SAE, and BSP fittings are also perfect for providing tank fittings to blow-molded tanks. We also provide a variety of injection-molded and overmolded components such as handles, caps, wing knobs, and plugs.
Thermoforming
Rotaloc Inserts are uniquely applicable to Thermoforming and its many different applications. The twin sheet thermoforming process, for example, utilizes a top and bottom mold where sheets of melted plastic are adhered via vacuum pressure to their respective mold halves and then pressed together to create the final two-part thermoformed part. Rotaloc specializes in creating custom strips, baseplates, and bent-wire parts that can be used to create threaded fasteners for these components, or to provide internal ribbing/structure. Our mold-in inserts and fasteners, such as the Rotaloc Geosert, provide high-strength torque and tensile strength threaded connections for thermoformed parts. The rounded edges of the Geosert reduce the chance of tear-through while the unique flutes/ribs on the insert improve the bond between the insert and plastic.
Injection Molding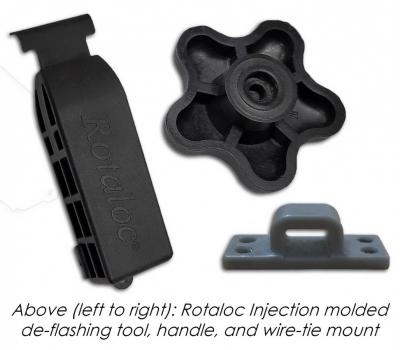 Rotaloc Mold-In inserts are perfect for injection molded components ranging from large manifolds, automotive panels, and consumer appliances to smaller applications like electronics components, handles, and medical/food preparation devices. Certain injection molded components require incredible small threads, such as Rotaloc's Brass M2x0.4 insert with a thread diameter of 2mm. Injection molding creates a strong bond between the molded-in insert and the plastic. Rotaloc also offers injection molded components, such as our Wire Tie Mount, which offers a non-destructive and inexpensive solution for bonded-on wire and cable management. Our injection molded Wire-Tie mount is engineered to have unique, cone-shaped adhesive "traps" that allow the adhesive to flow upwards through the base to create a mechanical bond with the adhesive. Our injection molded components can be found in kayaks, appliances, and aggricultural equipment, though the possibilities for our inserts are seemingly endless.
​Architectural Wall Cladding
Architectural Wall Cladding is often seen in commercial buildings and can be aesthetic or functional (such as acoustic panels). Wall cladding usually requires a form of non-visible fastener to be installed. Rotaloc's bonding fasteners provide a non-destructive and high-strength solution for an adhesive and "invisible" solution. These inserts can be bonded to the back of the cladding panels which are then mounted to their respective walls. Bonding fasteners can be adhered to nearly any rigid material, including (but not limited to) metals, composite laminates, wood, glass, stone, marble, granite, concrete, and brick. Our inserts can also be installed as mold-in inserts for cast or molded cladding. Whether architectural cladding is cast resin or water-jet sectioned composite laminates, there is a Rotaloc insert that will work for your application.
Compression Molding
Similar to Injection Molding, compression molding utilizes molds to apply heat and pressure to molten material which fills a mold to create the compression molded component. Rotaloc's mold-in inserts can be installed into the mold prior to molding to introduce high-strength threaded fasteners to the final part. Our wide array of sizes and thread types mean that regardless of your application, Rotaloc's dedicated team of Engineers and Manufacturing experts can work with you to determine the best possible insert for your project.
Contact Rotaloc Today
Contact Rotaloc today to speak with our team and find the perfect insert for your specific application.